Commander Meouch plays the bass and also contributes to the writing and programming of synthesizers.
Appearance
[
]
2011-2012
[
]
Meouch's earliest outfit was quite plain compared to his later iterations. It featured a purple morphsuit and a lion mask but did not include a mane.
2012-2013
[
]
The color and pattern of Morphsuit changed in 2012 to an asymmetrical black and purple pattern. A feather boa mane was added to the lion mask. He wore assorted pieces of armor on his shoulders and wrists.
2013-2014
[
]
In 2013, significant changes were made to Meouch's outfit. He wore a black and blue morphusit similar to the DC superhero, Nightwing. Meouch also added a blue headband and blue loincloth to his outfit. In addition to armor on his shoulders, Meouch began wearing armor on his knees, shins, and forearms.
2014-Present
[
]
His face resembles that of a lion's complete with a mane, and his body is humanoid. He wears a black vest over a black morphsuit with blue arms, a blue stripe across his chest, and a blue loincloth. His outfit also includes armor worn on the knees, shins, shoulders, and forearms.
It was hinted in the Guardians of the Zone cover artwork, that Meouch was going to have a helmet. When asked about in a 2016 AMA, Meouch shared that it is for "space travel only" and that "[y]ou'll see it soon enough.[1]" On April 6, 2017, costume designer Keith Shepherd shared a close-up photograph of the finished but unreleased mask for Commander Meouch[2]. On March 12, 2021, Meouch wore the helmet during a video performance of Daft Punk's song "Harder, Better, Faster, Stronger"[3].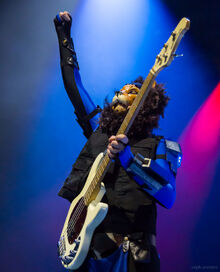 Career
[
]
Early Life
[
]
Meouch began playing bass when he was 8 months old, in cat years[4]. Prior to joining TWRP, Meouch made a fortune as a space pirate, smuggling funk to "historically square" star systems. He is also responsible for destroying Lord Phobos' homeworld and civilization[5].
Present Day
[
]
 He maintains that he has a deep sexual relationship with his instrument[6]. Meouch has been called the sassiest member of TWRP by his bandmates[7]. He also has a deep-seated mistrust of journalists, as evidenced in Dave Hurlow's account of his time spent with the band. While not known for attacking humans, Meouch's favorite food is human with guacamole[5]. Commander Meouch has a niece and nephew, Pearl and Dangus[8].
Discography
[
]
TWRP
[
]
As Featured Artist
[
]
Trivia
[
]
References
[
]
External Links
[
]