Doctor Sung is the frontman and one of the founding members of TWRP who specializes in keytar as well as synthesized vocals made through the use of a talkbox. He is one of the two members who will talk during the in-between song stage banter, along with Commander Meouch. Sung is well known for his bright yellow spandex, ability to high kick, and the iconic orange, pylon-shaped helmet he wears. His face is absolutely unknown but according to a drawing he did of himself, he has one large eye in the center of his face[1]. His alien species has not been confirmed. His birthday is May 26th, as stated at their 2017 live performance at The Hard Rock Live in Orlando, Florida. The keytar he uses is the Roland Ax-synth, and his synthesizer is the Yamaha DX100.
Appearance
[
]
2007-2010
[
]
Sung's first outfit consisted of a yellow hazmat suit, which quickly upgraded to a morphsuit with a black stripe running down the side, a black cape, and an orange traffic cone (or pylon) with holes cut out for his eyes and mouth.
2011-2012
[
]
Between 2011 and 2012, Doctor Sung began experimenting with different kinds of visors and shapes for the helmet.
2013-2014
[
]
Doctor Started to wear armor on his chest, shoulders, forearms, and knees. His chest piece featured an LED light in the center.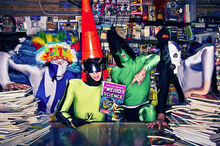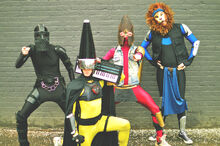 2015-2020
[
]
For a brief time in 2015, Doctor Sung performed with a black cone instead of his iconic orange one[2]. Shortly after the release of 2nite, Doctor Sung unveiled his next outfit, featuring a multi-tiered orange cone with LED lights, a black lower portion that covered his ears and back of his neck, and a dark, reflective visor. His armor was also improved and features more details than his earlier iterations.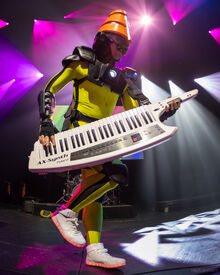 The most recent addition to his outfit was a pair of shoes with LED lights.
2020-Present
[
]
On February 25, 2020, Doctor Sung unveiled a new outfit at The Crescent Ballroom in Phoenix Arizona. The new design, inspired by Moebius, features a shorter, streamlined cone with a visor that fits over his nose[3]. His armor is more angular and features new shin, wrist, and shoulder guards.
Career
[
]
Early Life
[
]
Early in his existence, Doctor Sung's parents died of sadness. Wrought with loss and bitter anger, Doctor swore he would find the cure for all sadness and misery, and rid the universe of it forever. Ceaselessly, Doctor toiled in his fifth-dimensional lab; distilling time, volatilizing thoughts, and depurating matter, he discovered no cure for pain. After millennia, almost ready to give up his search for the invention to end all woe, he stumbled upon what he had searched for all his life - groove. Through rarefying sound molecules and quantuminating certain sonic frequencies to pleasurable levels, he found he could trigger the subconscious minds' synaptical nodes to emit feelings of complete euphoria. The side-effects of this euphoric state manifested themselves physically through the gyration of hips, the thrusting of pelvises, and the bobbing of heads - Doctor Sung later conceived the word "dancing" to describe the physical reactions of groove. And so through spreading groove, Doctor Sung set out to end sadness and despair across all space and time. With the rest of existence living in complete harmony, Doctor arrived with his colleagues at the last destination where fear, hatred, and pain still reigned – the first dimension, the home of the remote planet Earth.
Present Day
[
]
In addition to his responsibilities as the frontman of TWRP, Doctor Sung maintains a heavy presence online. He frequently appears in promotional videos for the band's tours as well as several video series shared on social media. Some video series that have focused heavily on him include Doctor Sung's Seven Steps For So You Can Be A Better High Kicker, Street Art with Doctor Sung, and Doctor Sung's Autumn Video Logs. When he is not touring with TWRP, Doctor Sung can be found streaming video games on Twitch on his show called The Cone Zone.
Discography
[
]
TWRP
[
]
Solo
[
]
Trivia
[
]
Equipment
[
]
References
[
]
External Links
[
]