Lord Phobos is the lead guitarist of the band. He used to wield a white 70s style Gibson Explorer, then he switched to a white fender stratocaster, now he uses a suhr super strat. In 2020 he broke his vow of silence when he started live streaming on Twitch. He now speaks through a microphone with a voice modulator.
Appearance
[
]
See also: Reference library
2011-2012
[
]
Lord Phobos originally wore a green morphsuit, a kilt made of leather straps, and a Lord of the Rings replica helmet of a soldier of Gondor.
2012-2013
[
]
The second iteration of his outfit kept the Lord of the Rings helmet, but added a denim jacket, silver jet pack, shutter shades, and changed the color of the morphsuit from green to red.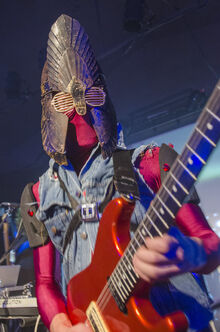 2014-2020
[
]
Lord Phobos wore a red morphsuit and golden armor on his shoulders, forearms, and knees, and a jet pack on his back. A helmet with a dark black visor covers his face and mouth.
2020-Present
[
]
On January 10, 2020, Phobos unveiled a new design at Chris Hadfield's Generator Toronto. His new armor featured a more streamlined look and a helmet with fins while keeping the red and gold color scheme.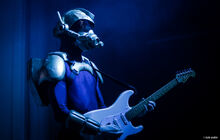 Career
[
]
Early Life
[
]
Very little is known about Lord Phobos' origins. During a Reddit AMA with the band in 2016, it was claimed that Phobos was born with a guitar in his hand[1]. In a video interview with Noisography in 2012, he claims that he was born in two places at once[2]. It wasn't until interviews in 2015 when more information about the enigmatic guitarist came to light. According to Doctor Sung, Phobos is a philosophical rocketeer from a race of scientific and culturally advanced people several millennia in the future. His civilization was destroyed by Commander Meouch, possibly when he smuggled funk to the people. Enraged and hungry for revenge, Lord Phobos pursued Meouch into space. The conflict between the two was pacified when Doctor Sung exited a wormhole into the middle of the battle. For reasons unspecified, Phobos took a sacred vow of silence. Phobos often practices guitar scales from the top of the CN tower in Toronto. He is a fan of the major league baseball team The Toronto Blue Jays[3].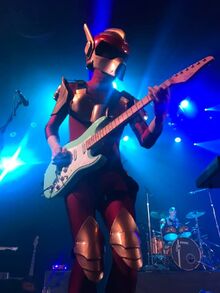 Discography
[
]
TWRP
[
]
Solo
[
]
As Featured Artist
[
]
Trivia
[
]
References
[
]
External Links
[
]