Welcome to the TWRP Wikia
Edit
TWRP (formerly an acronym for Tupper Ware Remix Party) is an intergalactic synth pop electro-funk band from Toronto, Canada. The band consists of members Doctor Sung, Lord Phobos, Commander Meouch, and Havve Hogan. The band is notable for performing in full costume, leaving their faces and real identities hidden.
2007-2010: Formation, Sex Is A Machine That Likes To Dance, Poised To Dominate Edit
Tupper Ware Remix Party was founded in Halifax, Nova Scotia in 2007. The original line-up consisted of four members: Doctor Sung, Havve Hogan, Stone LaChismo, and Bombus Tron. In 2007 they released their first EP, Sex Is A Machine That Likes To Dance. Their first full-length album, Poised To Dominate, was released in 2010.
2011-2012: Line-up Changes, The Device Edit
In 2011, Several line-up changes took place. Stone LaChismo departed the band, and Atomicawk Startrotter became the new bassist. TWRP also gained two new members during this time: Lord Phobos on guitar and Commander Meouch on synthesizers and vocoder. The single, "Lazerhorse" was released in 2011. The Device was released in 2012. For a brief moment in time in 2012, TWRP performed as a six-piece band. The band returned to being a five-piece band following Atomicawk's departure towards the end of 2012.
2012-2014: Touring, departure of Bombus Tron
Edit
Following the release of The Device, TWRP continued touring as a five-piece band. Numerous songs were written and performed during this era, but no official recordings were released. Examples of songs include "Fun Rack," "Plasma Wizard," and several songs with unknown names. Bombus Tron departed from the band in 2014.
2015-2017: Rise to popularity
Edit
Starting in 2015, TWRP saw a massive rise in popularity thanks to collaborations with Ninja Sex Party and prolific series of EPs. During this time, TWRP released four original EPs (2nite, Believe In Your Dreams, Guardians of the Zone, and Ladyworld), and performed as Ninja Sex Party's backing band on Under the Covers and Under the Covers II.
2018-Present
Edit
In May 2018, TWRP released their first full-length album since 2010, Together Through Time. Their collaboration with Ninja Sex Party continued as well, performing once again as a backing band on Cool Patrol. Doctor Sung released his first solo EP, Justice Wears High Tops in October 2018. TWRP provided backing tracks for Starbomb's third album, The Tryforce in 2019. Lord Phobos released his first solo EP, Phobos I, in May 2019. TWRP's third album, Return to Wherever, was released in July, 2019.
TWRP reprises their role as Ninja Sex Party's backing band on Under the Covers III, set to be released in mid November 2019.
Origins of the Band
Edit
Each member was hand-selected by Doctor Sung from the far reaches of the multiverse.[1][2] They crash-landed on earth in 2007, ruining their ship's hyperdrive and effectively stranding themselves in Halifax, Nova Scotia [3][4][5][6]. In 2012, they relocated to Toronto, Ontario where they have recorded a majority of their material[1][2][6]. Prior to their crash, TWRP was traveling through space on a mission to eliminate boredom and sadness from the universe, but when they witnessed rampant boredom across Atlantic Canada, they decided to stay[7]. Their arch-nemesis, Doc Boredom, often makes appearances at their shows but is routinely foiled[1]. TWRP also battles against The Haters, "sworn enemies of the fun who are bent on hater-ing them and un-groovifying the world at large"[8]. To aid them in their mission, TWRP created the Mobile Fun Unit, a "battery-powered, dumbed-down version of their typical set up used to wage guerrilla warfare against boredom" on the streets of Toronto[5][1][7].
On several occasions, the members of TWRP have mentioned that they are immortal beings who have traveled through space and time[1][6]. Having been experienced time travelers, TWRP has revealed some secrets about the future of humanity. For example, in the 2016 US Presidential Election, Canadian rock band Nickelback wins the election and becomes President of the United States[9]. It is worth noting that, in the future, a band with a similar sounding name, Nickelbalk, owns the Canadian province of Alberta and has become its own county led by Chald Krunger. The nation of Alberta exclusively listens to Trumpet Rock, one of the three genres of music which TWRP hold disdain towards. The other two genres are Adult Techno and Scrandiddly. Commander Meouch compares the future of humanity to that of Biff's timeline from the 1989 movie, Back to the Future Part II[1].
Despite the extraordinary circumstances of their existence, it has been confirmed that TWRP has human dads[4].
TWRP has, on several occasions, denied allegations that they wear costumes. In an interview with Music She Blogs, they explain that "in the unbounded multiverse each and every possible reality exists simultaneously… and we just happen to come from a reality where dudes look like us"[5]. They have admitted that their Armor was created by their human friend and artist, Keith Sheppard[10][11]. Their armor and helmets may serve functional purposes. On Doctor Sung's personal Tumblr page (inactive since 2012), he stated "The truth is, my pylonic headgear actually acts as a mojo-inhibitor - without it my libido would be so destructively powerful that a single thrust of my pelvis would shred the fabric of reality, causing the formation of an all-consuming supermassive [sic] black hole, and the end of life as you know it"[12]. In a 2018 AMA, TWRP described their appearance out of their suits as having "no distinguishing features whatsoever" and that they are "four pink fleshy balloons, completely indistinguishable one from the other.[13]"
Origins of the Name
Edit
The origin of the name, Tupper Ware Remix Party, is conflicted. In a 2012 interview with Music She Blogged, the band stated that the words Tupper, Ware, Remix, and Party were the first four words spoken by the drummer (probably Havve Hogan) when they asked themselves "What the fuck are we going to call ourselves"[5]. This account is contradicted in a 2015 interview with Dave Hurlow of Scope Magazine, where Doctor Sung claims he chose the name because he liked the way it sounded, even though the words had no meaning to him at the time[2]. This account is also called into question when, in a 2016 Reddit AMA, they claim that Tupper Ware Remix Party was the result of putting their names into Google and translating it into English[10]. In a 2017 Reddit AMA, it is explained that "Sung and Hogan met at drum camp (millions of years ago), and became fast friends. One night, after watching Interstella 5555 high af and eating an entire bag of Riesen, the two pals joked about making a ridiculous band. Literally, the first name that came to mind, with absolutely zero thought or hesitation, was Tupper Ware Remix Party" [14]. In a 2018 AMA, TWRP revealed that their band name, stage names, appearances and many early decisions were made arbitrarily. To avoid legal issues, they prefer to go by TWRP [15].
Band Members
Edit
TWRP is an elite squad of rockstars from the future originally crash landing in Halifax, Nova Scotia. They are currently on a mission to spread fun and eliminate boredom across the universe. Current stop: Earth, Current Continent: North America.
Previous Members Edit
CollaboratorsEdit
Discography
Edit
Compilations Edit
Solo Albums Edit
Collaborative albums Edit
References
Edit
↑ 1.0 1.1 1.2 1.3 1.4 1.5 Williams, Matt. Tupper Ware Remix Party Told Us What The Future Is Going To Be Like. Noisey.vice.com. 19 January 2015. Retrieved 2 July 2019
↑ 2.0 2.1 2.2 Hurlow, Dave. Tupper Ware Remix Party's Epic Quest to Annihilate Boredom. Scope-mag.com. 5 August 2015. Retrieved 2 July 2019.
↑ Noisography .com. INTERVIEW: Tupperware Remix Party. YouTube. 12 February 2012. Retrieved 2 July 2019.
↑ 4.0 4.1 Noisography .com Interview: Doc Sung // Tupper Ware Remix Party. YouTube. 1 July 2014. Retrieved 2 July 2019.
↑ 5.0 5.1 5.2 5.3 Music She Blogged. June, 2012. Meet Toronto Bands: #6 TUPPER WARE REMIX PARTY Retrieved 2 July 2019.
↑ 6.0 6.1 6.2 Electric City Live. Interview: Tupper Ware Remix Party's Message of Rock From Across the Multiverse. Electriccitymagazine.ca. 14 May 2015. Retrieved 2 July 2019.
↑ 7.0 7.1 Korn, Daniel. An Interview With Intergalactic Party Band Tupper Ware Remix Party. Cadencemag.com. 14 December 2011. Archived from the original on 27 October 2015. Retrieved 2 July, 2019.
↑ TWRP 23 April 2016). Groove Crusaders [Recorded by Tupperware Remix Party]. On Guardians of the Zone. [MP3 File].
↑ DVTV. DVTV Special Report. YouTube. 25 May 2016. Retrieved 2 July 2019.
↑ 10.0 10.1 Hi, We're TWRP, The Band That Collaborated With NSP on Under The Covers, Ask Us Anything. Reddit. 10 March 2016. Retrieved 2 July 2019.
↑ Keith R Sheppard's Portfolio Retrieved 2 July 2019.
↑ The Doctor is in. Doctor Sung's Infinite Wisdom. 5 May 2012. Retrieved 2 July 2019.
↑ We are TWRP, rockstars from the future, collaborators with Game Grumps, NSP, Starbomb and Chris Hadfield. We just released a new album, AUA! Reddit. 23 May 2018. Retrieved 7 November 2019.
↑ We are TWRP, an elite group of rock stars from the future/1980s/Toronto and frequent collaborators with comedy duo Ninja Sex Party... AMA/AUS! Reddit. 21 January 2017. Retrieved 2 July 2019.
↑ We are TWRP, rockstars from the future, collaborators with Game Grumps, NSP, Starbomb and Chris Hadfield. We just released a new album, AUA! Reddit. 23 May 2018. Retrieved 7 November 2019.
Latest activity
Edit
Photos and videos are a great way to add visuals to your wiki. Find videos about your topic by exploring Wikia's Video Library.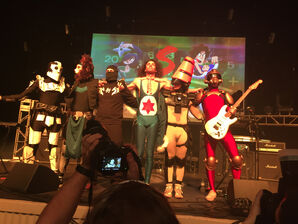 Community content is available under
CC-BY-SA
unless otherwise noted.